For the waxing clinic, attendees learned the proper techniques for waxing snowboards from our shop techs.
By the end of this class, attendees knew the basic steps and techniques of cleaning, coating, scraping, buffing, and structuring wax on their snowboard. This class was designed for both those that have never waxed and those that wax frequently but wanted to improve their skills. A technician walked attendees through the steps of waxing their setups and was present to answer questions and provide critiques.

All of the waxing supplies needed were provided. Attendees simply purchased their tickets and showed up with one board or pair of skis to wax.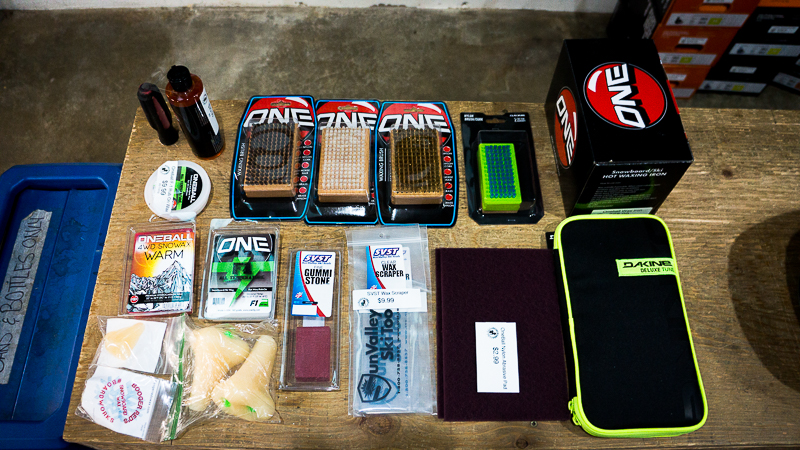 WAXING GEAR
The waxing clinic started off with a brief introduction to what tools would be used during the class so that everyone was on the same page about the terminology being used. From there, our techs went through the entire waxing process themselves to provide a start to finish example of the entire process.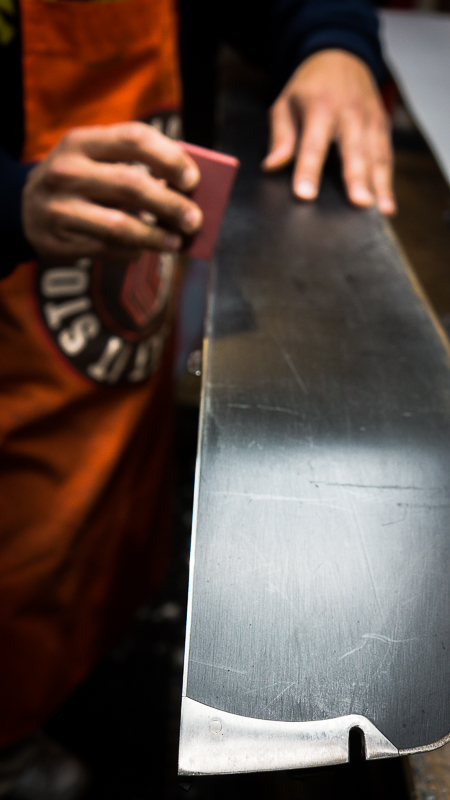 CLEANING & GUMMI-STONING YOUR EDGES BEFORE WAXING
First step was gummi stoning their edges so that there wasn't any rust or burs to damage the waxing iron and in turn scratch up their base.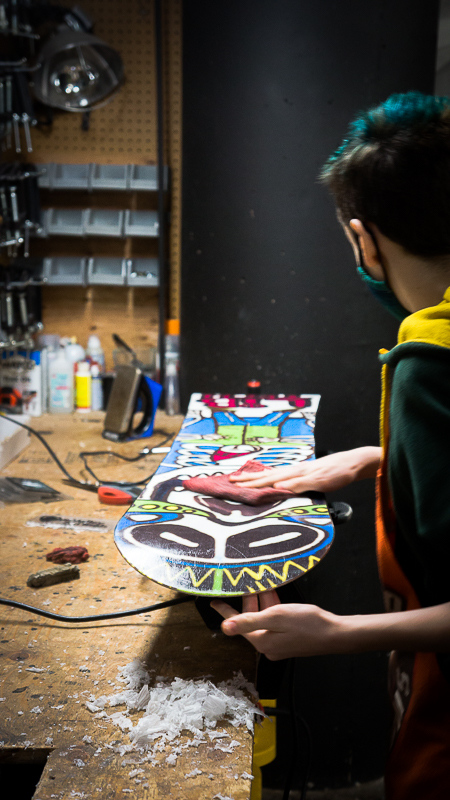 THE IMPORTANCE OF BASE CLEANING A SNOWBOARD
Next, attendees cleaned their base so that dirt and other impurities did not get heated by the iron and burned into their base.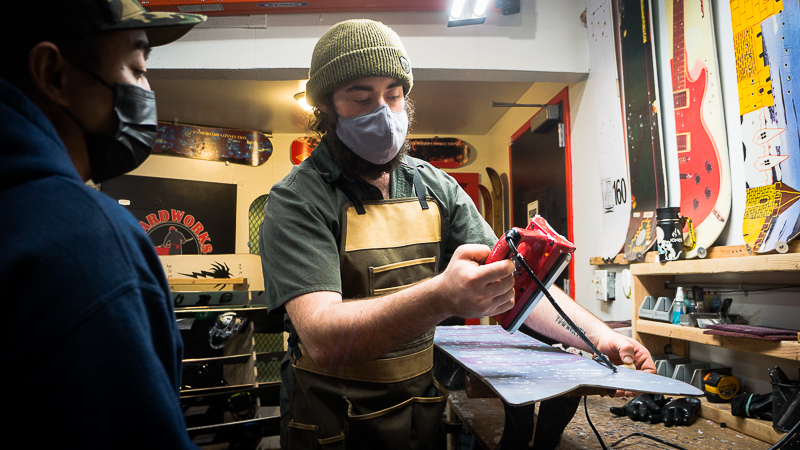 After everyone's boards were prepped and cleaned, attendees applied wax to their base with the drip method. Earlier in the clinic, our techs discussed the pros and cons of using the drip method compared to the crayon method of applying wax.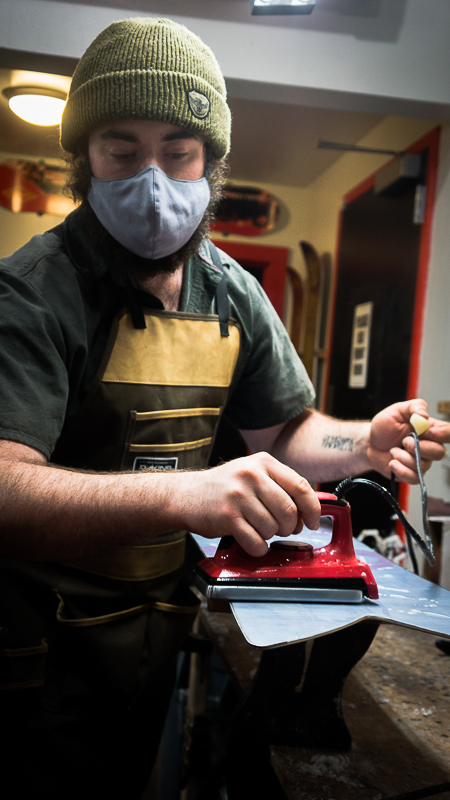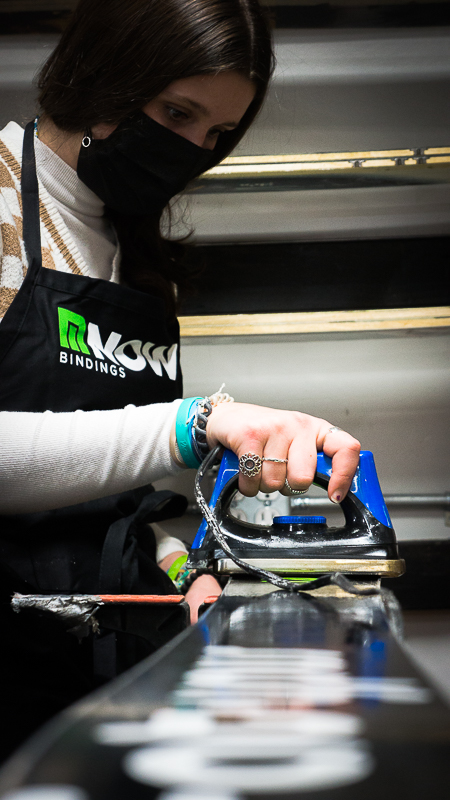 Once everyone had dripped wax onto their base, attendees ironed the wax into the base and created an even coating that they then let cool.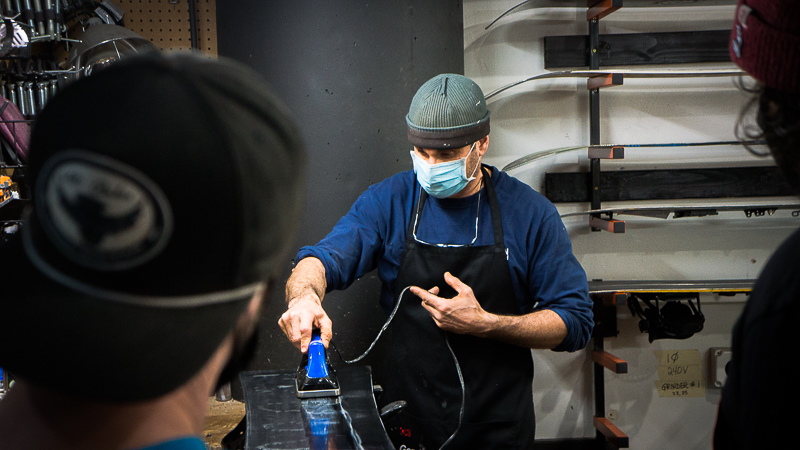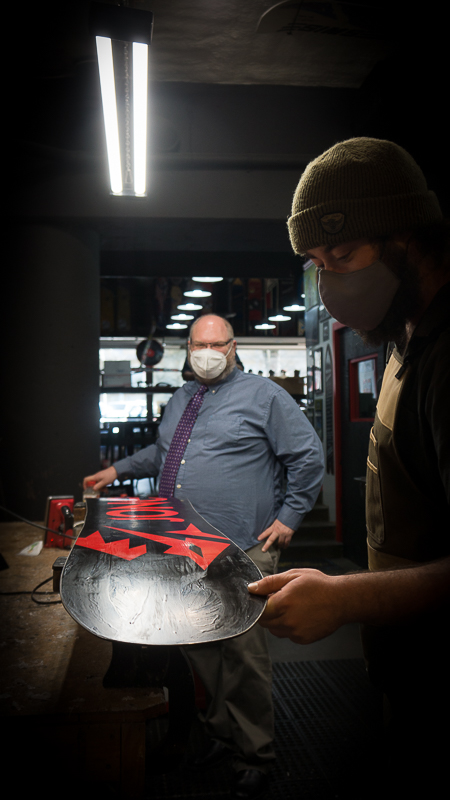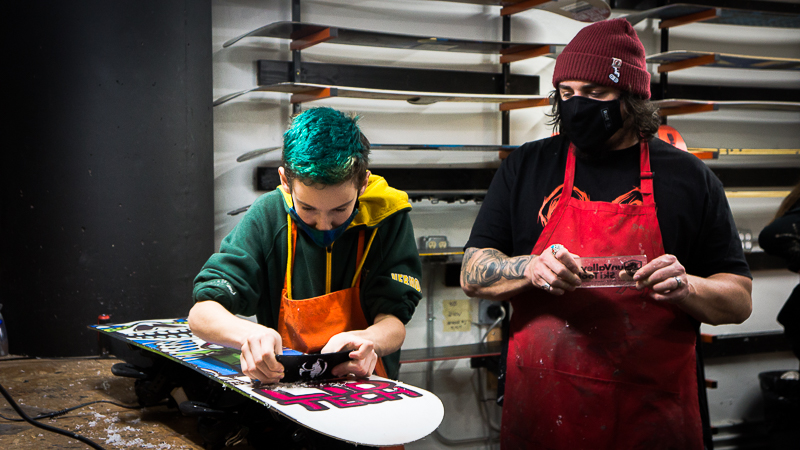 SCRAPING TECHNIQUE
Our techs demonstrated the proper way of scraping a board or skis, offering real-time feedback on scraping as clinic attendees put their newly learned techniques to use.
From there, students scraped the wax off of their board to remove the excess wax that creates drag and friction in the snow.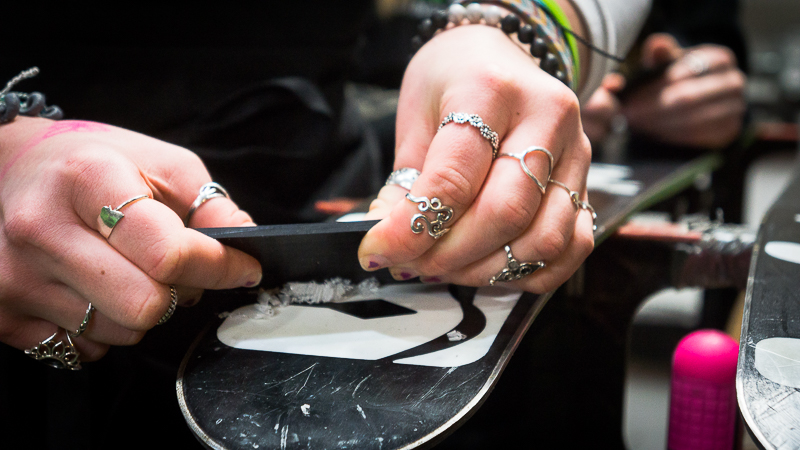 Attendees focused on scraping topics such as how to hold a wax scraper and how to get a consistent finish on scraping wax.
Once the excess wax had been scraped and removed, attendees buffed and structured the wax using nylon pads and brushes so that moisture could move through the wax on their base faster.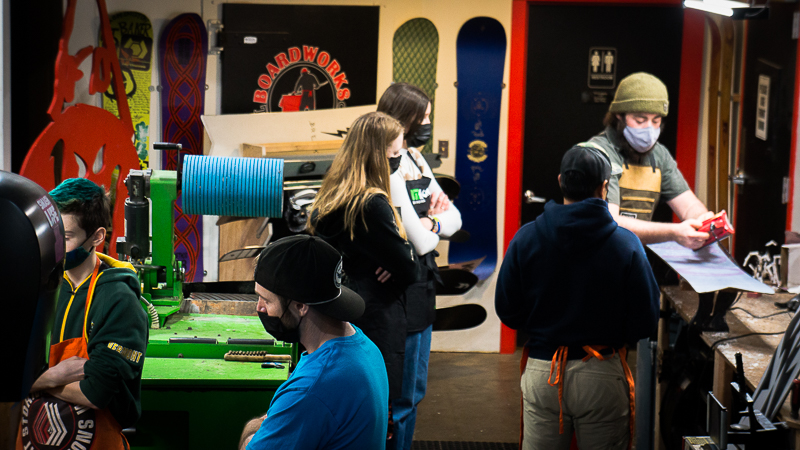 After everyone had a board greased up and ready to fly, we all hung out and discussed various waxing techniques. During the entire class, there were multiple techs present so attendees could ask questions and get feedback on their progress.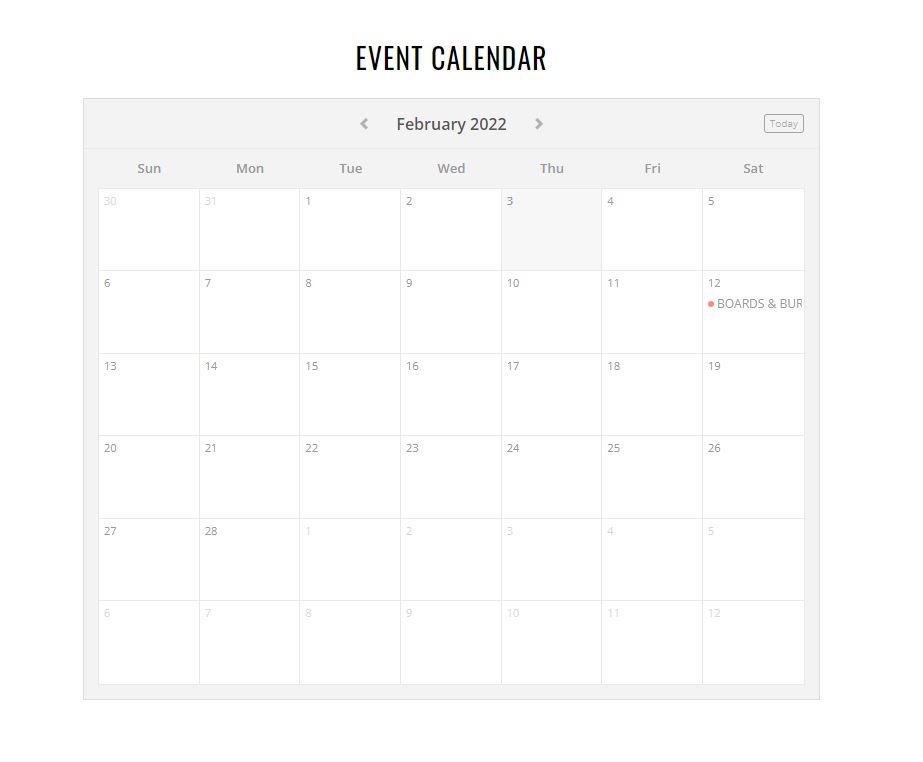 KEEP AN EYE OUT FOR THE NEXT SNOWBOARD TUNING CLINIC!
Keep an eye on the Boardworks event calendar for the next snowboard tuning class/clinic. We will be hosting more in the future!
View Calendar
You might also like
Vola Racing Waxing Iron
$99.95
$99.95
Oneball Wax Iron
$62.00
$62.00
Sold out
Booger Red's Shop Size Noses
$20.00
Oneball 6" Wax Scraper
$10.00
$10.00
Oneball Base Cleaner 8oz
$20.00
$20.00
Oneball Citrus Base Cleaner 4oz
$15.00
$15.00
Sold out
SVST Gummi Stone - Red (Fine)
$15.99
$15.99
Sold out
Dakine Deluxe Tuning Kit 2024
$75.00
$75.00
Dakine Nylon / Cork Brush
$15.00
$15.00
Sold out
Oneball Nylon Brush
$14.00
$14.00
Oneball Horsehair Brush
$17.00
$17.00
Oneball Snowboard Roto Brush
$59.99
$59.99
Sold out
Nylon Abrasive Pad LG - Medium (Maroon)
$2.99
$2.99
Oneball 4WD Wax Warm
$16.00
Oneball X-Wax Cool
$24.00
$24.00
Oneball X-Wax Warm
$24.00
$24.00
Oneball 4WD Wax Cool
$16.00
$16.00