TEAMS HAVE REGISTERED FOR THE
MT. BAKER ALL MOUNTAIN SHOWDOWN!
Everyone at Baker rips, or at least think they do. This is your chance to show it.
For the third year in a row, our permitting got denied on our biggest annual event of the year, the Boardworks Box Jam (thanks Covid).
As a result, we've decided to put the entire budget into an epic contest instead. The All Mountain showdown is a new spin on the iconic "All City Showdown" skate contest, and the concept is simple. 3 riders, 1 filmer, and 1 month to put together the best footage you can.
Whoever throws down the winning edit gets the cash and the glory. It doesn't matter if you board, if you ski, or what your style is. Let your riding do the talking and your community will crown the winner.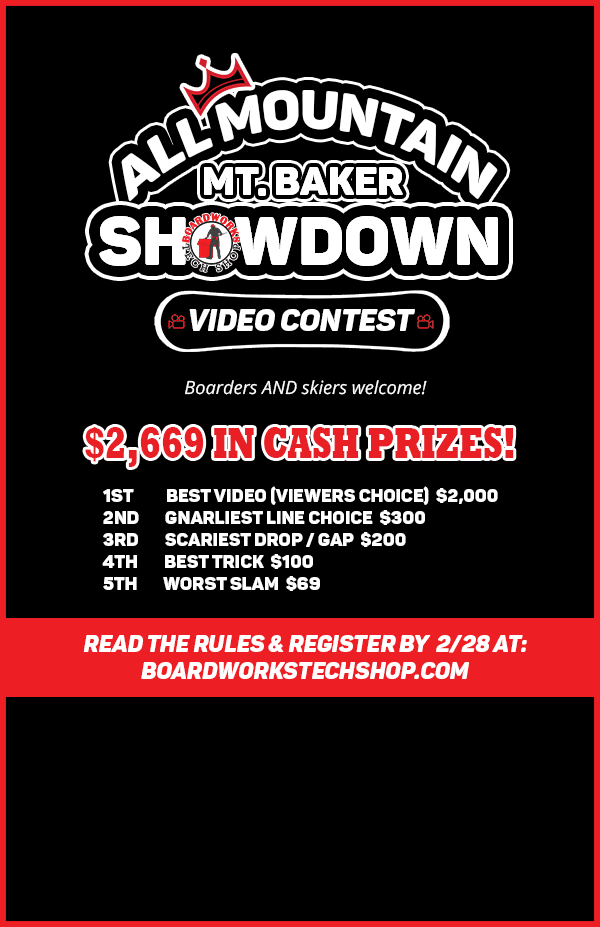 In case you haven't heard already, the All Mountain Showdown works like this:
1. Each team films the best three-minute edit they can riding Mt. Baker during the month of March. They then turn in the footage they plan on using for their edit at the end of the month. Only this footage can be used in their edit and none of the footage can be released before the end of the contest.

2. The teams take the footage they got during March and have all of April to put together their edit from that footage. They submit their final edits at the end of April.

3. All of the teams' edits will be posted to the Boardworks Tech Shop Youtube channel on September 1st. From that time the public will have one month to vote for their favorite video. Whoever gets the most votes by the end of September wins the grand prize of $2,000 CASH. A panel of industry expert judges will choose the winners of the secondary prizes: Gnarliest line choice ($300), scariest drop/gap ($200), best trick ($100), and worst slam ($69).
That all said, here are your teams for the first annual Mt. Baker All Mountain Showdown:
TEAMS
LIFT DOGS
RIDERS:
Vinny Fava | Mike Brassard | Jon Hehr
DESIGNATED FILMER:
Pat Scherer
CHE & DAN
RIDERS:
Che Contreras | Dan scanlon
DESIGNATED FILMER:
None
ALWAYS CHOOSE SKIING
RIDERS:
Teo Bergsma | Wes Gonter | Fisher Goosman
DESIGNATED FILMER:
None
MT. BAKER AIR FORCE
RIDERS:
Adam Roelofs | Nelson Goosman | Malcom Evans
DESIGNATED FILMER:
None
MACK BOYS
RIDERS:
Caleb Mack | Nathan Mack | Ben Mack
DESIGNATED FILMER:
None
C-TEAM
RIDERS:
Brian Honcoop | Morgan Rose | Jake
DESIGNATED FILMER:
Adam Vanderhorst
THE DEGENERATES
RIDERS:
Bandon Lee | Chris Powers | Eamon Himka
DESIGNATED FILMER:
Lichen Johnson
PISTE OFF
RIDERS:
Jack Severson | Jake Little | Rob Gnarly
DESIGNATED FILMER:
Grady Haskell
PARIS
RIDERS:
Cole | Eridan | Casey
DESIGNATED FILMER:
None
THE HOGS
RIDERS:
Oliver Clements | Nick Laughlin | Adam Kittinger
DESIGNATED FILMER:
Eddie Laughlin
BAKER MADE
RIDERS:
Melissa Schedlin
DESIGNATED FILMER:
None
BOMBHOLE INSPECTORS
RIDERS:
Adam Wilson, Brady McDonell, Cameron Timm
DESIGNATED FILMER:
None
TRES GRINGOS
RIDERS:
Jack Hilt, Flynn Bloom, Porter Livingston
DESIGNATED FILMER:
None
Keep an eye out for updates on All Mountain Showdown on our social media pages and our monthly newsletter!