$439.95
$439.95
Karakoram PRIME Grizzly 2024 Splitboard Bindings
Manufacturer Description: 

Your entry into splitboarding without compromising the ride down. No Pin, No Slop while riding. Active Joining gives you a responsive feel just like on your resort board. Drop-On change overs for effortless transitions. Don't compromise your ride on the way down or the walk on the way up. A proven Karakoram binding at an accessible price.  Powder with no lift required.
 **Included: Bindings and Splitboard Kit with Single Riser. Quiver-Connectors sold separately.
Specs
 
 Technology 
ACTIVE JOINING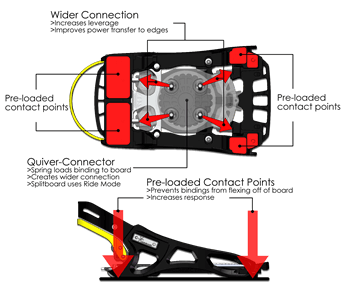 INSTANT RESPONSE.
Pre-loaded binding to board connections give instant response. The most responsive connection for snowboards and splitboards.
---


SURF SIDEWALL
FREEDOM OF FLEX.
Lower softer inside sidewall allows you to drop your knee surf style and tweak out your grabs.  (Footbed not included with Grizzly Split)
---
AIR-FLOW HIGHBACKS
TWEAK. SURF. FREEDOM.
Karakoram's softest highback
Medium Flex (6 of 10)
Dual Ride-Stride Forward Lean adjustment for Splitboarding

Flex-Lock compatible 

for Splitboarding
---
AIRFORM STRAPS
NO PRESSURE POINTS.
Independent Pressure Pods articulate to boot eliminating pressure points and pinch points.
---
PRIME SYSTEM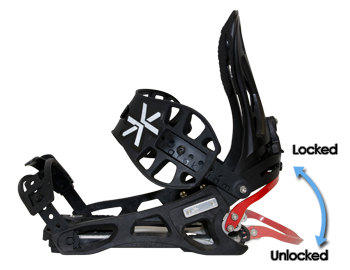 DROP-ON CHANGE OVERS.
Quickly attach your Prime bindings to your solid board with Quiver-Connectors or splitboard with the Ride Mode 2.0.  Active joining allows for a loose fit then closing the lever locks your binding to your board, removing all play from the system.
---
OPEN CHASSIS
NATURAL BOARD FLEX.
Open chassis allows board to twist naturally under binding
---
INTERLOCKING SEAM TABS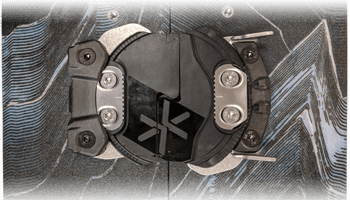 NO SEAM SEPARATION.
Seam tabs interlock across the seam of your splitboard interlocking and pre-loading the seam.
---
SNOW EJECTION CHANNELS
EASY SNOW CLEARING.
Made from a carbon infused nylon, the Ride Mode 2.0 is designed to reduce snow build up and clear snow easily.
---
TOUR MODE
TIGHTEST AND SMOOTHEST TOUR PIVOT.
Independent sleeves rotate freely on a fixed through axle (similar to a bike axle) for the stiffest and smoothest touring pivot
Wide support cradle increases tour mode rigidity
Offset cradle allows snow to clear during entry
Quick release touring bracket allows for quickest and simplest transition